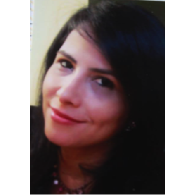 Jeremiah
Massage Therapist
Jeremiah graduated from Tom P. Haney Technical Center and received a degree in massage therapy. He likes to incorporate different techniques into his massage treatments. A relaxing massage would consist of a Swedish massage with some localized
deep tissue toxin removal. A deeper massage could include any or all of the following, myofascial release, trigger point therapy and acupressure. Jeremiah is also very good at Crystal therapy, using herbs for ailments and working with energies intuitively.
JILL
Massage Therapist
I am a graduate from Rutgers University with a B.S. degree in Wildlife Biology. I attended Tom P. Haney Technical Center in Bay County, where I received my degree in massage therapy. I started my practice, Beach Therapeutic Massage, one month out of school and I am still doing massage at the same location. I learned how to manage muscle pain caused by car accidents. I also see many visitors to our area, looking for relaxation and to relieve pain from traveling.
My technique developed into a nice combination of therapeutic massage for pain and a rhythmic flow for mind & body relaxation. I have many different approaches to my massage depending on what your need is. I do "ashiatsu" (foot pressure), massage for deeper, broader strokes. I incorporate hot stones with Swedish Therapeutic for relaxation and cupping for deep, yet gentle work. I use Thai Yoga massage for assisted stretching. The majority of my massage is still hands on. I believe increasing your blood flow through massage and exercise is the secret to staying healthy. I love what I do. My goal is to give you the best massage possible.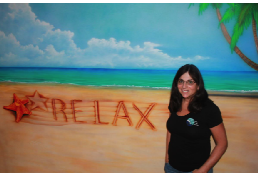 Reagan
Massage Therapist
Reagan is a graduate of Reese Institute of Massage Therapy, Orlando, FL. She is also a graduate of Americare School of Nursing, Winter Park, FL., and has a degree as a radiology technician. Reagan has enjoyed her 25 years as a massage therapist in bodywork. Her science background has helped her understand the human body and develop a more precise massage. Whether you're a weekend warrior or a person experiencing chronic back pain, Reagan's massage will help you feel better. Reagan has had special training in reflexology, myofascial release and deep tissue massage. The wellbeing of others has been her life's dedication.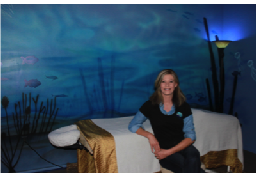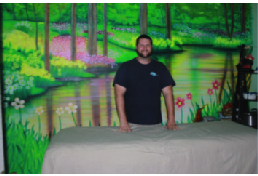 Brenda
Esthetician
Brenda is a licensed Esthetician, working in the spa industry over 10 years. She received her training at Soothing Arts Healing Therapies School of Massage, located in Destin, FL. She has an incredible love of nature and enjoys using custom blended herbs and essential oils in all her services. Brenda specializes in the Raindrop Therapy for healing and good health.
Brenda is very passionate about the healing power of touch and most of all helping people find the beauty that lies within to look and feel their best!
Geneva
Cosmetologist
Geneva went to Pierre's School of Cosmetology in Sanford, Maine and has been a Licensed Cosmetologist since 2008. Geneva teaches Taekwondo and has been in Martial Arts for many years. She attended Aveda classes for skin care and overall wellbeing. Enhancing your look through skin care and waxing is a must if you are out on the beach, body building, swimming, biking or any activity of your choice. Geneva is passinate about helping people feel good and look great.